There are three towns close to Inks Lake. Burnet is 14 miles to the east of Inks Lake. Kingsland is 7 miles south and Llano is 17 miles to the west.
The boating and water skiing are fantastic on Inks Lake. The view of the bridge that spans the lake and the view of the dam are very appealing. A restaurant called "The Catfish Barge", which is actually built on a floating barge, serves great catfish dinners and offers very nice views of the lake and the bridge.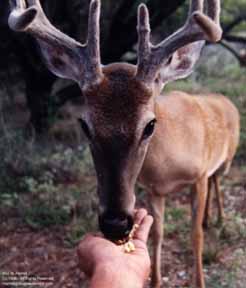 Photo by Roy M. Harrell of a Buck
eating out of his hand at Inks Lake.
INKS LAKE STATE PARK is a 1,200 acre panorama of cedar and oak woodlands bordering Inks Lake. The park offers swimming, boating, fishing, hiking, BBQing and even golf. They have 7.5 miles of hiking trails. Bring your camera to get terrific photos of the deer, turkeys and other wildlife.

Highland Lakes Public Golf Club is a 9-Hole public course, located on Inks Lake on Park Road 4 a few minutes south of Hwy 29. This course is only about a 15 minute drive from Burnet and 20 minutes from Marble Falls, Texas.
Planning on bringing your boat to the Highland Lakes?
SERVICES AVAILABLE AT INKS LAKE:
Inks Lake Vacation Home For Rent
On beautiful Inks Lake between Burnet and Llano. Comfortably sleeps up to 6 people in this 3 bedroom 2 bath lakefront home. Rent by day, week or longer. Winter Texans welcome.
Ray's Striper Fishing Guide Service
Ray Williamson enjoys guiding novice and experienced fishermen alike on Lake Buchanan.


in the Highland Lakes Area